16-6-21
10.1 3g QUAD-CORE TABLET CHARTPLOTTER 2ND HAND.
99.00 JUST THE ONE.
OR 199.00 WITH A QUARK 024 A.I.S. RECEIVER/MULTIPLEXER
WITH ITS ANTENNA,S/POWER SUPPLY
ANTIGLARE FITTED
MARINE NAVIGATOR NAV APP LATEST (V.GOOD)
INSTRUCTIONAL VIDEOS ON TABLET,ASSUMES NO KNOWEDGE OF TABLETS
A.I.S. READY.EVEN TRANSPONDER READY.A FIRST.
QUALITY CORNER TO CORNER CLAMP.BOLTS/GLUES/CLAMPS OR SCEWS ON
.
SPARE PORT SEAL COVERS
FULL SET OF 883 2021 LICENCED AND LEGAL UK CHARTS..GREAT DETAILED COVERAGE,

NON GOOGLE PLAY O.E.M. LATEST MARINE NAVIGATOR LICENCED APP INSTALLED WITH THE CHARTS.SOFWARE MANUAL IS INCORPORATED IN HELP WHEN YOU OPEN MARINE NAVIGATOR.A SHORT DEMO VIDEO IS PUBLISHED BY US ON YOU TUBE....SEARCH LONDONCHARTPLOTTERS.
BUILT IN 3G PHONE,PAYGO GIGG-GAFF INSTALLED
16 GIG MEM
A FEW FREE MARINE APPS INSTALLED F.O.C,,EG WEATHER/GRIB/ETC. SOME OF THESE REQUIRE A INTERNET CONNECTION.MARINE NAVIGATOR,THE NAV APP DOES NOT..
FREE 2022 UPDATE ON THE UK IRE CHARTS VIA DOWNLOAD IN FEB 2022
F IN 2023 YOU WANTED FRESH CHARTS IT WOULD BE 14.95 AT TODAYS PRICE FOR A FULL SET OF 2022,S WITH A FREE 2023 UPDATE.

THIS IS A FULL TURNKEY SET...YOU COULD OPEN THE PACK ON THE BOAT AND GO SAILING.
THIS DOES NOT NEED INTERNET/SIM/WIFI TO NAVIGATE..IT USES GPS AND GLONAS SATTELITES...FREE... TO GET YOURE POSITION...ACCURATE TO WITHIN A COUPLE OF METERS MAX.
NO ANNUAL CHARGES..EVERYTHING PAID FOR AND UP AND RUNNING.
UNPACK THIS ON THE BOAT AND YOU WILL BE FINE!!!!!
UNPACK THIS ON THE BOAT AND YOU WILL BE FINE!!!!!
ALL COVERED UNDER OUR "IN HOUSE" (NO SENDING OFF) 6 MONTH GUARANTEE.EXTENDABLE TO 12 MONTHS FOR MEMBERS,(20.00)
EVEN IF YOU BREAK IT...WELE FIX IT HERE.UNDER GUARANTEE OR NOT..AT A PRICE THAT MAKES SENCE...EG SCREEN REPLACE 50.00
WE DO NOT CHARGE LABOUR FOR REPAIRS IF IT IS OUR DEVICE.ONLY COSTS.

* automatic chart switching depending on current position and zoom level
* scrolling through all charts available for the current location by "press and hold" zoom buttons
* display of number of available charts for current location in the zoom buttons
* display of outlines of installed charts in active chart
* chart rotation (True North, True Course, Compass Heading, original chart orientation)
* tracks, way points, routes
* follow route automatically
* intuitive route editor
* gpx import and export of waypoints and routes
* gpx export of tracks
* recording of tracks in active and standby mode
* length of recorded tracks only limited by the capacity of the external storage (SDCARD)
* compass (magnetic north, true north)
* different dashboard layouts (basic data, detailed route data, detailed GPS data including graphical status
info)
* Man Over Board (MOB) functions"
Our favourite feature so far: Being able to point the tablet at the bows, "Compass Up", and having the "True Course Line" switched on. This show as a dotted line stretching ahead the CMG by the boat. So "at a glance" the navigator can see how much the current is having an effect on the boat at that instant. (Or leeway for that matter).
The "Compass Up" feature also allows you to positively identify buoys or seamarks from a distance, by lining them up with the tablet/phone.
Note: Not ALL Android devices have a built in compass.
AIS screenshots
This example is using an underlying map, not a chart: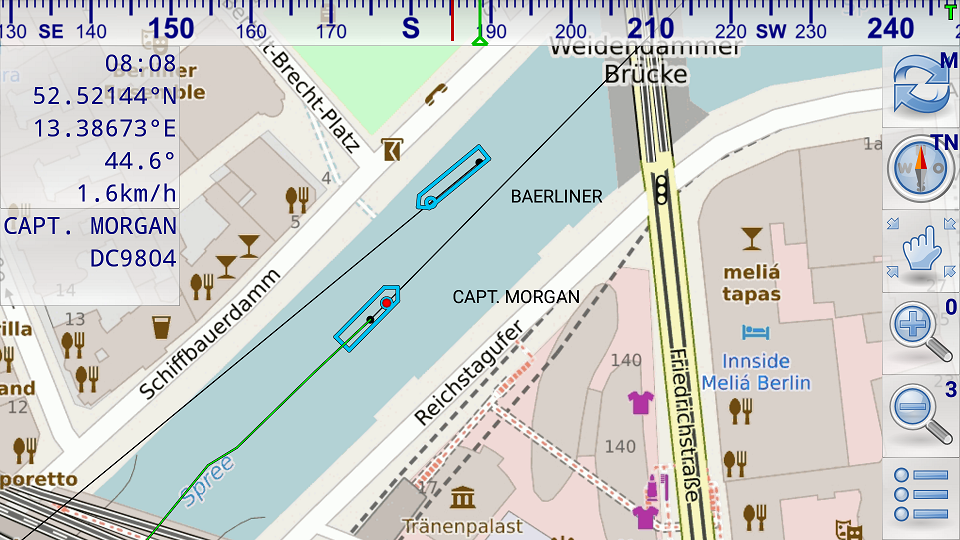 In this picture above both vessels have send position reports and static voyage related data (name of vessel, call sign, ...). The black dots show the last received position. The black lines show the predicted course. The position of the vessel is calculated based on the data of the last received position report (position, COG, SOG). The dimensions of the vessels are taken from the last received static voyage related data report. Capt. Morgan is selected therefore its detailed data are shown in the upper
left corner of the screen and its track based on the previously received position reports is shown by a green trailing line. Capt. Morgan has not specified its destination. Therefore destination information is missing below the call sign.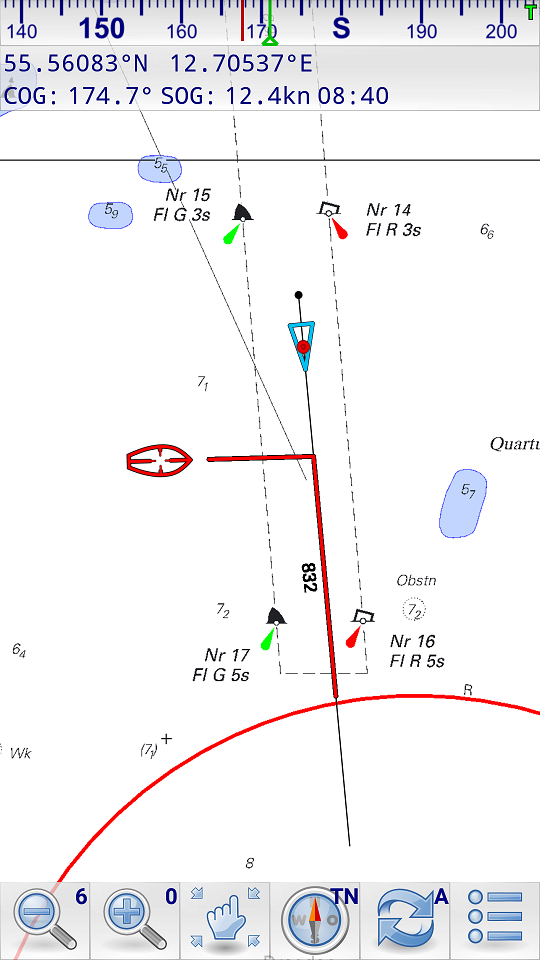 This picture above shows a collision alert. The red line on the own course line shows the passing distance when the other vessel crosses the own course line. The red line on the course line of the AIS target shows the passing distance when the own vessel crosses the course line of the AIS target. In the illustrated case the own vessel will cross 832m behind the AIS target. The AIS target (red cursor) is selected. It hasn't send any static voyage related data yet. Therefore only data of the position report is shown (position, SOG, COG).