29-1-22
8 INCH SAMSUNG ACTIVE RUGGED TABLET CHARTPLOTTER
. Condition is Remanufactured. waterproof.drop-proof,daylight viewable screen.
REDUCED TO CLEAR. WE ARE DISCONTINUING THESE
NOW £135 TO CLEAR, £265 WITH A.I.S.
150.00 complete kit. or 280 with kit and a a.i.s receiver
YES WE DO HAVE STOCK.
8 INCH SAMSUNG ACTIVE RUGGED TABLET CHARTPLOTTER
. Condition is Remanufactured.
4g phone may be locked to vodaphone/02 OR UNLOCKED..phone or 4g not needed for plotting. IP 67 RUGGED RATING
VERY RECENT GENUINE FEEDBACK ON THESE
Excellent service from London chart plotters as usual. Rugged tablet has exceeded my expectations. Will be used as main plotter much easier to use than fixed garmin plotter on boat.
8 " SAMSUNG ACTIVE RUGGED TABLET CHARTPLOTTER,2021 UK CHARTS,INTERNAL GPS,IP67 (#
313514017248
)
Amazing quality and really easy to set. Thanks so much for the quick reply of my messages. I will recommend 100%
8 " SAMSUNG ACTIVE RUGGED TABLET CHARTPLOTTER,2021 UK CHARTS,INTERNAL GPS,IP67 (#
313514202574
)
Great package, just as described and fantastic service from Steve.
8 INCH SAMSUNG ACTIVE RUGGED TABLET CHARTPLOTTER 2020 uk CHARTS,INT GPS,4G PHONE (#313200264662)
What does ip67 waterproof mean?
GREAT CONDITION..THESE ARE JUST SUPER PIECES OF KIT.FAST MODERN AND TOUGH.
j


FULL KIT...FULL 2023 UK AND IRE CHARTS,12V AND 240 CHARGERS,HIGH QUALITY STAND,CLAMP.DAYLIGHT VIEWABLE SCREEN
THIS ALSO HAS OUT OF DATE CHARTS FOR NEAR CONTINENT..HUGE COVERAGE.SEE PICTURE
HIGH AMP 240V MAINS CHARGER
HIGH AMP BULLET CHARGER
ANTIGLARE FITTED
MARINE NAVIGATOR NAV APP LATEST (V.GOOD)
INSTRUCTIONAL VIDEOS ON TABLET,ASSUMES NO KNOWEDGE OF TABLETS
A.I.S. READY.EVEN TRANSPONDER READY.A FIRST.
QUALITY CORNER TO CORNER CLAMP.BOLTS/GLUES/CLAMPS OR SCEWS ON.NO TABLET WOBBLING.
CORNER TO CORNER PREVENTS ACCIDENTAL PRESSING
OF TABLET BUTTONS
SUCTION CUP HOLDERS CAN OFTEN BREAK LOOSE
.
EXTRA PORT SEAL plugs fitted
GREAT REPLACABLE BATTERY.
MANUFACTURERS CLAIM UP TO 6 HOURS.
FULL SET OF 883 2023 LICENCED AND LEGAL UK CHARTS..GREAT DETAILED COVERAGE,

NON GOOGLE PLAY O.E.M. LATEST MARINE NAVIGATOR LICENCED APP INSTALLED WITH THE CHARTS.SOFWARE MANUAL IS INCORPORATED IN HELP WHEN YOU OPEN MARINE NAVIGATOR.A SHORT DEMO VIDEO IS PUBLISHED BY US ON YOU TUBE....SEARCH LONDONCHARTPLOTTERS.
A FEW FREE MARINE APPS INSTALLED F.O.C,,EG WEATHER/GRIB/ETC. SOME OF THESE REQUIRE A INTERNET CONNECTION.MARINE NAVIGATOR,THE NAV APP DOES NOT..
FREE 2024 UPDATE ON THE UK IRE CHARTS VIA DOWNLOAD IN FEB 2024
IF IN 2025 YOU WANTED FRESH CHARTS IT WOULD BE 14.95 AT TODAYS PRICE FOR A FULL SET OF 2025,S WITH A FREE 2026 UPDATE.

THIS IS A FULL TURNKEY SET...YOU COULD OPEN THE PACK ON THE BOAT AND GO SAILING.
THIS DOES NOT NEED INTERNET/SIM/WIFI TO NAVIGATE..IT USES GPS AND GLONAS SATTELITES...FREE... TO GET YOURE POSITION...ACCURATE TO WITHIN A COUPLE OF METERS MAX.
NO ANNUAL CHARGES..EVERYTHING PAID FOR AND UP AND RUNNING.
The Charts:
Made from standard raster charts. You just can't beat the superb detail of raster charts. Vector charts do not have the richness of detail, but are seamless. At VMH we prefer raster every time.
From a white paper by CherSoft, the company who produce "Easy Tide" for the UKHO. For a full understanding of the differences between RASTER and VECTOR charts

download the white paper
Tap/Click thumbnails to see large image
Tap/Click thumbnails to see large image
Tap/Click thumbnails to see large image

When used with appropriate charts, the app can be used as a stand alone portable chartplotter using the Android tablets' built in GPS (and compass if present). Routes, waypoints and tracks can be used and saved. Charts can be dragged around and switch automatically on zooming in/out.


AIS function has just been added with an in app upgrade to ongoing AIS capability. NMEA feed for AIS targets needs to be delivered by wifi network. Small AIS units that provide this are available cheaply, well under £100.

Existing users of the app, can update to the "new" version via the Play Store (without charge) to experiment with the AIS function. Existing working VMH chartsets will be unaffected by this app update.
.
Why use an Android tablet ?
Because if you get a decent tablet with 10" screen , and built in GPS and compass using these charts in conjunction with "Marine Navigator" app (buy for about £6.50 in the Google Play Store) will give you a fully featured chart plotter, that's "stand alone" and complete. No connecting GPS sets, it's all there already. The charts are fully installed, no internet needed (after installation) , use at sea. Use in the cockpit or chart table. You can get waterproof protective cases for the tablet too. Long battery life, quick start up... what more could you want ? (best in our experience by far.. Sony Xperia tablet Z)
Why "Marine Navigator" ?
Because we've found it to be so easy to actually use in real seagoing situations. The designer Ronald Koenig, is responsive and continues to update his app all the time. It's versatile.. In addition to our encrypted charts, it can also use standard BSB2/3 charts you may already have. For instance Antares charts for W. Scotland. This app can even calculate routes using Great Circle (for ocean sailors) or Rhumb lines.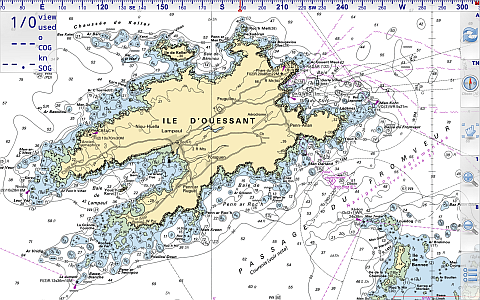 "Marine Navigator is an offline navigator using raster navigational charts (RNC's) to plot your position in real time. This way you can navigate with true copies of official paper charts on your mobile device. This full version of the Marine Navigator provides besides the functionality of the lite version the following enhanced functions:

* automatic chart switching depending on current position and zoom level
* scrolling through all charts available for the current location by "press and hold" zoom buttons
* display of number of available charts for current location in the zoom buttons
* display of outlines of installed charts in active chart
* chart rotation (True North, True Course, Compass Heading, original chart orientation)
* tracks, way points, routes
* follow route automatically
* intuitive route editor
* gpx import and export of waypoints and routes
* gpx export of tracks
* recording of tracks in active and standby mode
* length of recorded tracks only limited by the capacity of the external storage (SDCARD)
* compass (magnetic north, true north)
* different dashboard layouts (basic data, detailed route data, detailed GPS data including graphical status info)
* Man Over Board (MOB) functions"
Our favourite feature so far: Being able to point the tablet at the bows, "Compass Up", and having the "True Course Line" switched on. This show as a dotted line stretching ahead the CMG by the boat. So "at a glance" the navigator can see how much the current is having an effect on the boat at that instant. (Or leeway for that matter).
The "Compass Up" feature also allows you to positively identify buoys or seamarks from a distance, by lining them up with the tablet/phone.
Note: Not ALL Android devices have a built in compass.
AIS screenshots
This example is using an underlying map, not a chart: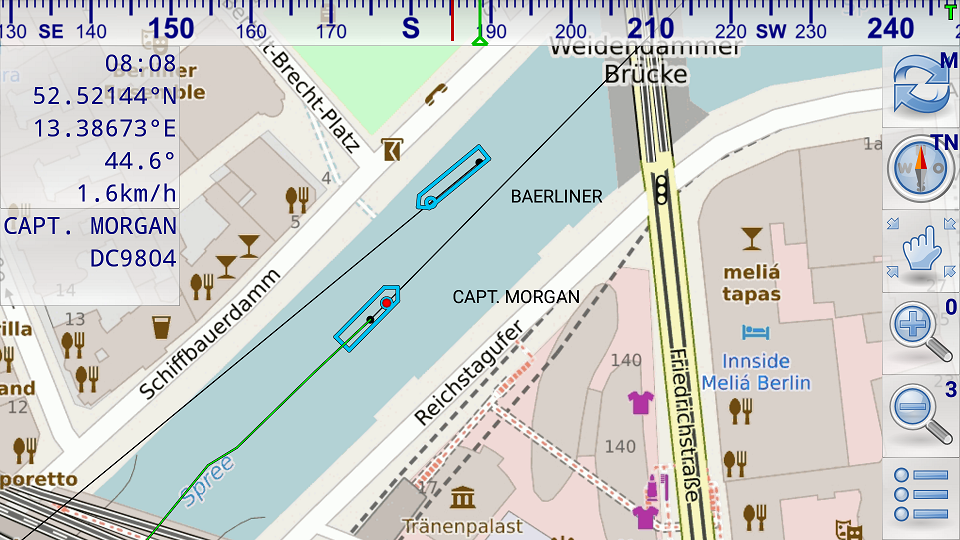 In this picture above both vessels have send position reports and static voyage related data (name of vessel, call sign, ...). The black dots show the last received position. The black lines show the predicted course. The position of the vessel is calculated based on the data of the last received position report (position, COG, SOG). The dimensions of the vessels are taken from the last received static voyage related data report. Capt. Morgan is selected therefore its detailed data are shown in the upper left corner of the screen and its track based on the previously received position reports is shown by a green trailing line. Capt. Morgan has not specified its destination. Therefore destination information is missing below the call sign.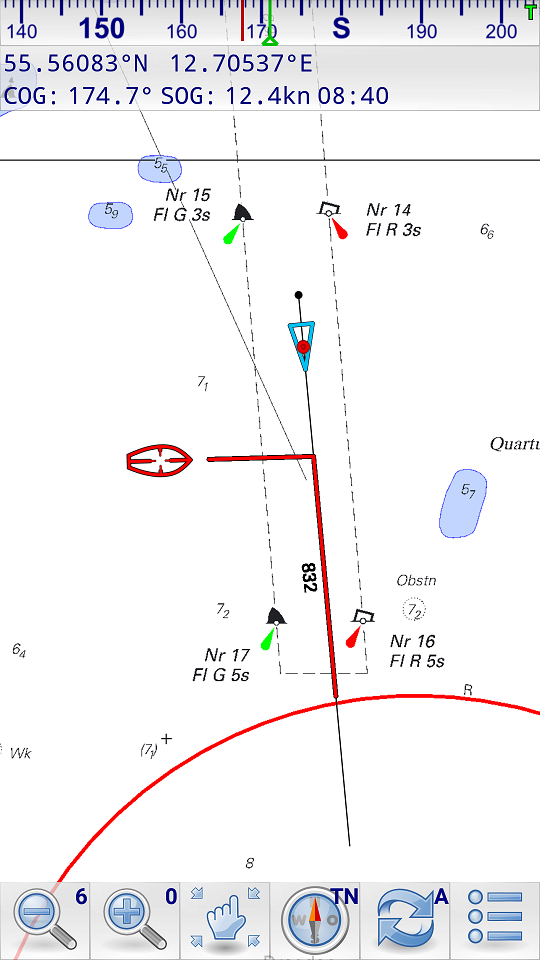 This picture above shows a collision alert. The red line on the own course line shows the passing distance when the other vessel crosses the own course line. The red line on the course line of the AIS target shows the passing distance when the own vessel crosses the course line of the AIS target. In the illustrated case the own vessel will cross 832m behind the AIS target. The AIS target (red cursor) is selected. It hasn't send any static voyage related data yet. Therefore only data of the position report is shown (position, SOG, COG).
UNPACK THIS ON THE BOAT AND YOU WILL BE FINE!!!!!
ALL COVERED UNDER OUR "IN HOUSE" (NO SENDING OFF) 6 MONTH GUARANTEE.EXTENDABLE TO 12 MONTHS FOR 20.00
EVEN IF YOU BREAK IT...WELE FIX IT HERE.UNDER GUARANTEE OR NOT..AT A PRICE THAT MAKES SENSE...EG SCREEN REPLACE FOR SAMSUNG 8 40.00 (COST)
WE DO NOT CHARGE LABOUR FOR REPAIRS IF IT IS OUR DEVICE.ONLY COSTS.
FULL SET OF 883
MARINE NAVIGATOR LICENCED APP INSTALLED WITH THE CHARTS.
THIS IS A FULL TURNKEY SET...YOU COULD OPEN THE PACK ON THE BOAT AND GO SAILING.
PLUGS PROVIDED FOR USB AND HEADPHONE PORTS MAKING IT WATERPROOF."DONT LOOSE THEM"
THIS ALSO HAS A 4G PHONE BUILT IN.NORMAL SIM.
Grade: A- Grade Refurbished Tablet May have very minor wear and tear to the front, back or sides. STYLUS SUPPLIED WORKS OK WITH FINGER TOUCH SCREEN
FINGER TOUCH SCREEN
Brand & Model: Samsung Galaxy Tab Active SM-T365 & Rugged Case.
Processor: Adreno 305 Quad Core 1.2GHZ
Screen: 8" 16:10 1280 x 800 WXGA
Memory: 1.5GB
Storage: 16GB
Operating ANDROID 5.1.1 LOLIPOP
Wireless & Cellular Yes
Bluetooth: Yes
Webcam: Front & Rear
nput/Output: MicroUSB 2.0, Card Slot MicroSD (MicroSD Up to 64GB), 3.5MM Audio Port & USB Charging Cable Supplied
Warranty: 12 Months
Info:
Anti-shock
Don't worry about drops or impacts in active business environments. With its included cover, Samsung Galaxy Tab Active is designed to handle drops of up to 1.2 meters with protective cover (3.9 feet)*. *Drop test results meet MIL STD 810G standard
Water and Dust Resistance (IP67) HANDLES TOTAL IMMERSION.
Protected against the effects of temporary immersion between 15cm and 1m. Duration of test 30 minutes
Keep working continuously in virtually any environment with IP67 environmental sealing that protects against damage from water and dust.
Ultra Power Saving Mode and detachable battery
The tablet's Ultra Power Saving mode and advanced, User-replaceable battery ensure bus
Premium design
Gain toughness and stability without sacrificing a premium design with 9.75-mm thickness(without cover) and a 393-gram light weight with rugged reinforcement.
Save time on communications and work process management with easy NFC device pairing and tag reading. A 3.1-megapixel (MP) Auto Focus (AF) camera with a Flash feature enables easy, efficient barcode scanning to facilitate communication and workflow.
Non-slip coating exterior
Hang on to your tablet with a firm grip, even in rough working conditions.
Pogo pin
Recharge the tablet quickly and easily, without the need for a separate USB device. Samsung KNOX
Supports a KNOX type of locking mechanism to create a hardware-and-software integrated security platform. KNOX features hardening security with two-factor authentication to safeguard business data.