8" SM-T395 IP68 RUF=GGED SAMSUNG TABLET CHARTPLOTTER
WITH FULL CLASS B A.I.S. TRANSPONDER. 2023 UK CHARTS,EVERYTHING INCLUDED,
£595
YOU KEEP ASKING IF WE CAN DO THIS... YES WE CAN... GREAT START TO A WIFI BACKBONE UNSING A FULL QUARK MMULTIPLEXER.MORE INPUTS AND OUTPUTS AVAILABLE,
FROM THE ONLY SPECIALIST TABLET/WINDOWS
PLOTTERING COMPANY. PIONEERING ALTERNATIVE AFFORDABLE NAV SYSTEMS FOR OVER 12 YEARS.LICENCED AND QUALIFIED,
THIS IS THE FIRST TABLET TRANSPONDER SYSTEM
EVER PREPARED FOR SALE BY ANYONE.ANYWHERE.EVER.
AND IT IS GOOD QUALITY KIT, NO CORNERS CUT TO SAVE PENNYS.
AT A PRICE EQUAL TO OTHER SELLERS TRANSPONDERS ON THIER OWN, YET OURS INCLUDES ALL THE ANTENNAS AND A MULTIPLEXER WITH A 8" WATERPROOF OUTDOOR TABLET CHARTPLOTTER!!
THE SM-T395 SAMSUNG IS REALLY SPECIAL OUTDOOR TABLET
FAST SAMSUNG ENYOS QUAD CORE,ANDROID 9, SAMSUNG CHANGEABLE BATTERY
IT IS A HIGH END SAMSUNG, STILL AVAILABLE NEW.£400
AS MANY OF OUR CUSTOMERS KNOW, YOU CANNOT EVEN GET NEAR OUR PRICES WITH A DIY SYSTEM WHICH HAS NO GUARANTEE OR SUPPORT,
SAMSUNG SM-T395 TABLET CHARTPLOTTER
WITH FULL CLASS B A.I.S. TRANSPONDER
ALL 12V POWERED
FULL SET NO EXPIRY 2023 UK CHARTS
ALL, YES ALL ! OTHER COUNTRIES AVAILABLE.JUST ASK.
WE WILL PROGRAM THE TRANSPONDER FOR YOU WITH MSI NUMBERS ETC,
WE NEED VESSEL SIZE,TYPE,NAME,VHF CALLSIGN,MSI NUMBER
EVERYTHING IS CORDLESS.MORE NMEA OR SEATALK INPUTS OUTPUTS AVAILABLE ON THE MULTIPLEXER,
EVERYTHING NEEDED INCLUDED AS USUAL.INC PROPER ANTENNAS, QUALITY LEADS, TOP CHARGERS,
UNPACK, PLUG IN, AND SAIL AWAY!!
EVEN HAS TWO GPS,S FOR THE TRANSPONDER.I FIXED DOME POLE MOUNT ( £71 ON EBAY), AND ONE PORTABLE CHEAPY,
THE TABLET IS FULLY PLOTTERED AS OUR £199.95 LISTING
BUT WILL AUTOMATICALLY SEE THE TRANSPONDEr AND LINK TO IT, GETTING A.I.S. DATA FROM OTHER BOATS TRANSPONERSS AND SHOWING THEM ON YOURE CHARTS,
YOU WILL SHOW UP ON THEIR CHARTS AND "VESSEL FINDER" provided a shore station picks you up
FULL SET OF 2023 UK AND IRE RASTER CHARTS..OVER 800 CHARTS.
ALL LICENCED AND LEGAL.
FREE UPDATE TO 2024 CHARTS IN FEB NEXT YEAR.
WE CAN SUPPLY CHARTS OF ANY OTHER COUNTRIES UP TO AND INCLUDING A FULL CIRCUMNAVIGATIONAL PACKAGE WITH OVER 5790 REAL RASTER CHARTS,
FIND OUT WHY WE HAVE OVER 4500 HAPPY CUSTOMERS.AND ABOUT 2 UNHAPPY IDIOTS IN OVER 12 YEARS OF TRADING
GOOD CONDITION.
SAMSUNG SM-T395 8" DAYLIGHT SCREEN IP68 SUBMERSABLE.
MILITARY RUGGED STANDARDS MIL800
OUTDOOR VIEWABLE POLORISED GORILLA GLASS SCREEN, WITH ANTIGLARE PROTECTOR
AND BUMPER CASE.
FULL 2023 UK CHARTS FULL KIT
TABLET COMES WITH COMPLETE KIT/QUALITY CHARGERS/HOLDERS/ /GOLD LEADS/PLUGS/INTRUCTIONS
HOLDER/CLAMP CAN BE MOUNTED TO A FLAT SURFACE
OR A BAR.
CONTACT US IF YOU NEED A DIFFERENT SORT OF MOUNT THAN OUR SUPPLIED CORNER TO CORNER,
SUCTION CUP MOUNTS ARE USELESS.
CARE MUST BE TAKEN WITH A FOUR FINGER HOLDER
AS THEY CAN CAUSE FACTORY RESETS.
COMMERCIAL 4.8 AMP 12V TO USB BULLET CHARGER
QUALITY MINIMUM 2 AMP MAINS CHARGER
SPECIALLY IMPORTED FROM FACTORY MARINE C USB LEAD.1 MTR,5 AMP, 24k GOLD PLATE CONNECTORS.NO SALT OXIDIZATION.
MARINE NAVIGATOR NAV APP LATEST (V.GOOD)
INSTRUCTIONAL VIDEOS ON TABLET,ASSUMES NO KNOWEDGE OF TABLETS
4 SHORT VIDEOS ON THE TABLET SHOW SIMPLE USE OF THE NAVIGATION SOFTWARE,ROUTES,MARKS,ETC.
HELP SHEETS (BRIEF) EXPLAINING A LOT OF WHYS,HAVING 12 YEARS EXPERIENCE SPECIALIZING IN THIS FIELD,WE KNOW THE EVERY SNAG YOU MAY FIND.
WE ARE THE N.1 LICENCED SPECIALIST IN THIS FIELD.
POSSIBLY THE ONLY SPECIALIST IN THIS FIELD.
100,S OF TABLETS LEAVE HERE EVERY MONTH TO ALL CORNERS OF THE GLOBE.WE HAVE A MASSIVE FOLLOWING OF VERY VERY HAPPY CUSTOMERS.WE TREAT THEM HOW WE THINK WE WOULD WANT TO BE TREATED
FULL NAV APP MANUAL ON THE APP ITSELF.AND AS A PDF ON THE TABLET,
ITS A PROPER MARINE CHARTPLOTTER APP.ROUTES,MARKS,ROLLING ROAD,GPX FILES,Licenced for navigation.as opposed to the
FAR FAR DIFFERENT FROM THE "WELL KNOWN" RENTED LEADING APP ON GOOGLE PLAY
(with a trustpilot rating of 1.6...i kid you not.)
THIS TABLET AS A PLOTTER, AND WITH A A.I.S. RECIEVER, AND KITTED OUT FOR A CIRCUMNAVIGATION ARE LISTED SEPERATELY.( SO MANY 1STS FROM US!)
FULL SET OF 883 2023 LICENCED AND LEGAL UK CHARTS..GREAT DETAILED COVERAGE,
100% FREE FULL UPDATE TO 2024 UK CHARTS IN FEB 24,BY SIMPLE DOWNLOAD.2023 CHARTS AND APP STAY AS THEY ARE IF NOT UPDATED AND WONT STOP WORKING.
GENUINE LICENCED AND LEGAL UK IRE RASTER CHARTS DERIVED FROM DATA FROM THE UK HYDROGRAPHIC OFFICE.
THESE RASTER CHARTS LOOK VERY SIMILAR TO THE PAPER ADMIRALTY CHARTS WE USED TO GET.824 charts have been seamlessly quited together.
NO DELAY ON ZOOM OR CHART CHANGE.
LIVE POSITION,BY A REAL MULTICHANEL GPS AND GLONAS SATELITE RECEVIER AND ANTENNA BUILT IN.

NON GOOGLE PLAY O.E.M. LATEST MARINE NAVIGATOR LICENCED APP INSTALLED WITH THE CHARTS.SOFWARE MANUAL IS INCORPORATED IN HELP WHEN YOU OPEN MARINE NAVIGATOR
https://www.youtube.com/watch?v=AAIBotEHFRY&t=101s
A FEW FREE MARINE APPS INSTALLED F.O.C,,EG WEATHER/GRIB/ETC. SOME OF THESE REQUIRE A INTERNET CONNECTION.MARINE NAVIGATOR,THE NAV APP DOES NOT..
THIS IS A FULL TURNKEY SET...YOU COULD OPEN THE PACK ON THE BOAT AND GO SAILING.
THIS DOES NOT NEED INTERNET/SIM/WIFI TO NAVIGATE..IT USES GPS AND GLONAS SATTELITES...FREE... TO GET YOURE POSITION...ACCURATE TO WITHIN A COUPLE OF METERS MAX.
NO ANNUAL CHARGES..EVERYTHING PAID FOR AND UP AND RUNNING.CHARTS DO NOT STOP WORKING.NO DOWNSIDE.NO CATCHES.
UNPACK THIS ON THE BOAT AND YOU WILL BE FINE!!!!!
ALL COVERED UNDER OUR "IN HOUSE" (NO SENDING OFF) 6 MONTH GUARANTEE.EXTENDABLE TO 12 MONTHS FOR 20.00
EVEN IF YOU BREAK IT...WELE FIX IT HERE.UNDER GUARANTEE OR NOT..AT A PRICE THAT MAKES SENCE...EG SCREEN REPLACE 25.00 yes £25.00 charging plug repair £10.00 ..customers only.
WE DO NOT CHARGE LABOUR FOR REPAIRS IF IT IS OUR DEVICE.ONLY COSTS.
Mar"Marine Navigator is an offline navigator using raster navigational charts (RNC's) to plot your position in real time. This way you can navigate with true copies of official paper charts on your mobile device. This full version of the Marine Navigator provides besides the functionality of the lite version the following enhanced functions:

* automatic chart switching depending on current position and zoom level
* scrolling through all charts available for the current location by "press and hold" zoom buttons
* display of number of available charts for current location in the zoom buttons
* display of outlines of installed charts in active chart
* chart rotation (True North, True Course, Compass Heading, original chart orientation)
* tracks, way points, routes
* follow route automatically
* intuitive route editor
* gpx import and export of waypoints and routes
* gpx export of tracks
* recording of tracks in active and standby mode
* length of recorded tracks only limited by the capacity of the external storage (SDCARD)
* compass (magnetic north, true north)
* different dashboard layouts (basic data, detailed route data, detailed GPS data including graphical status info)
* Man Over Board (MOB) functions"
Our favourite feature so far Being able to point the tablet at the bows, "Compass Up", and having the "True Course Line" switched on. This show as a dotted line stretching ahead the CMG by the boat. So "at a glance" the navigator can see how much the current is having an effect on the boat at that instant. (Or leeway for that matter).
The "Compass Up" feature also allows you to positively identify buoys or seamarks from a distance, by lining them up with the tablet/phone.
Note: Not ALL Android devices have a built in compass.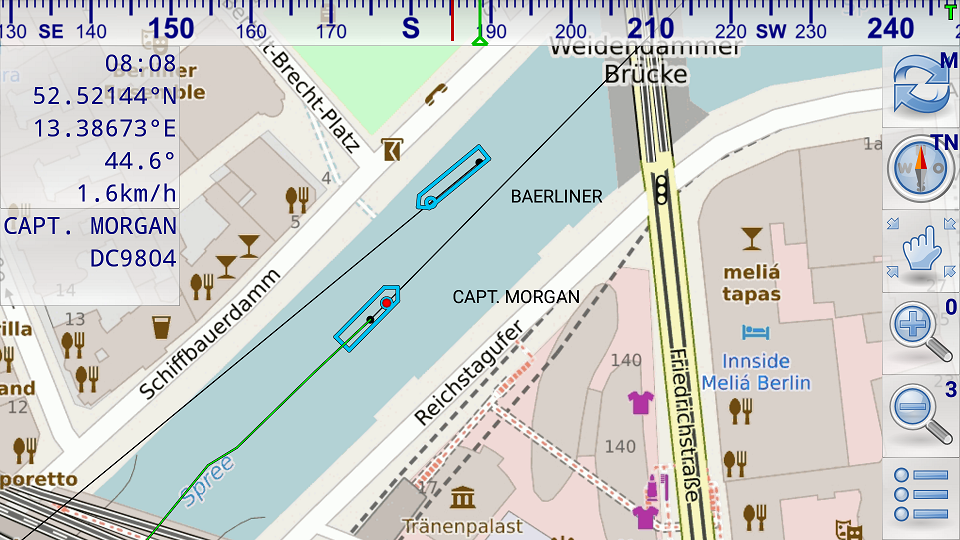 STAND HAS THE OPTION OF FIXING THE HOLDER BAR BY GLUE.SCREW/BOLT OR THE CLAMPS...MUCH LESS WOBBLE...DOESNT BREAK OFF AS THE SUCTION ONES CAN DO.