Toughbook CF-29 Chartplotter
in stock non touchscreen
THIS NEXT ONE IS IN SUPERB CONDITION,
JANUARY SALE ITEM NOW £320.00
OR 395 WITH A.I.S RECEIVER WITH ANTENNA
FREE DOMESTIC
DELIVERY.
2019 USA AND UK CHARTS
30.00 international delivery
420.00 uk pounds total
Guide Price
SALE PRICE 320-00 FREE ANYWHERE DELIVERY
£320.00
free uk post. £30 postage for the rest of the world
Email for further details or use the PayPal form below to order.
Charts Included

( click thumbnails to view larger )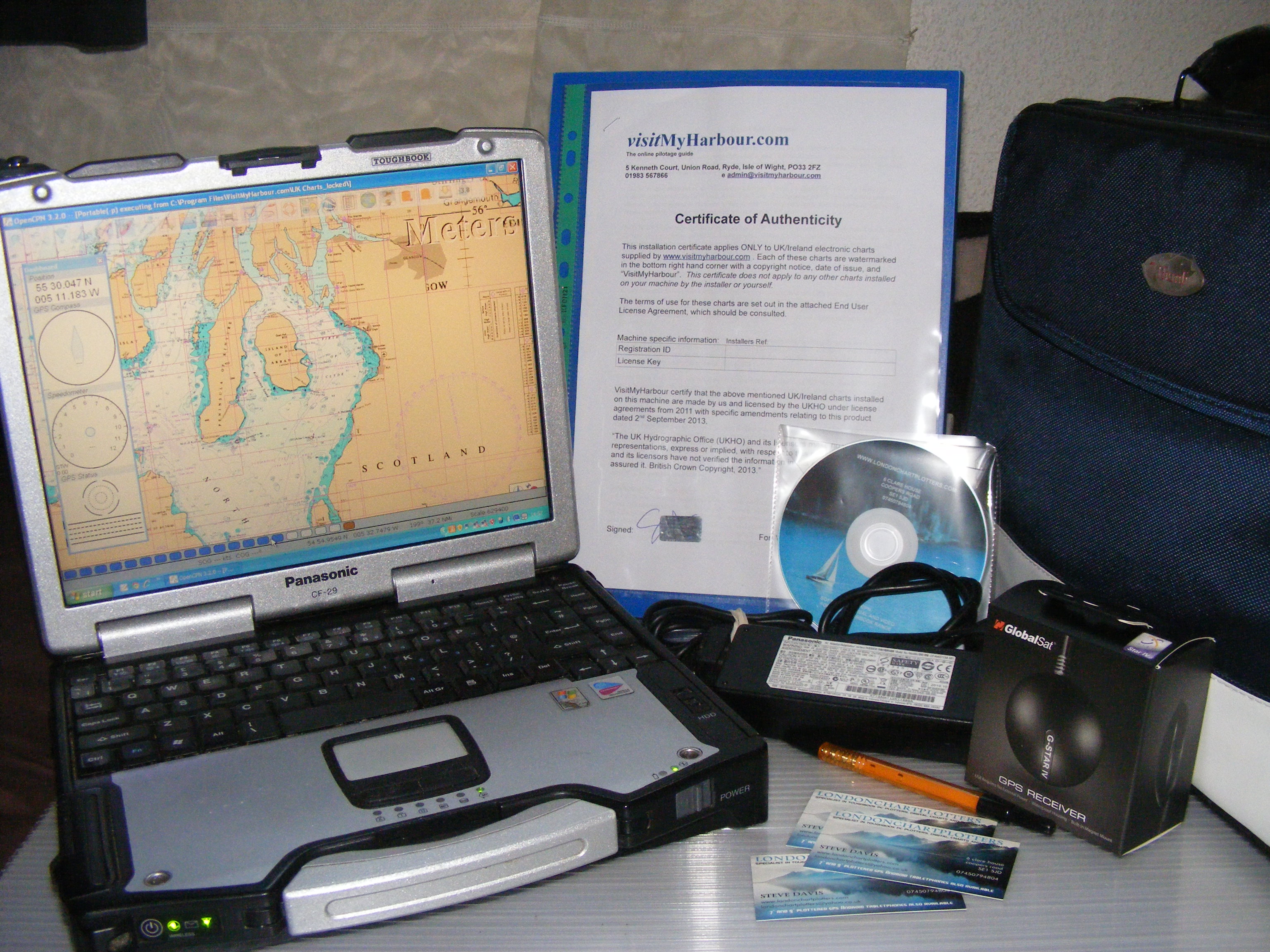 Here we have simply a great complete run straight out of the box chartplotter.
If you look up the price of a clean CF-29 you will see how competitive this machine is!
You really do get what you pay for.
normally these are mark 4,s
but we reserve the option of using other cf-29 models as available.
The Toughbook CF-29L3Q71BE (MK4) is a fully rugged laptop which has a 1.6GHZ CPU, an 80GB Hard Drive and 1.5GB RAM.
This is not your regular plotter. This is prepared to military standarts (MILSTD810G to be precise)
For us that don't understand, this means that the machien is certified against drops, shocks, vibration, rain, sand, dust, high and low altitudes and temperatures, explosive atmospheres etc.
RUNNING FRESH LICENCED XP PRO
120 GIG HARD DRIVE
1.5 GIG RAM


The CF-29 is in good condition, we choose special battery, has inbuilt Wifi, Checknet GPRS modem and app for sms messaging, checking emails etc. All these features have been tested and the GPRS modem has been found to work with vodafone.
This is a full sized laptop, with a dvd drive, checked and fully working.
It has a full magnesium allow case which covers and protects the machine along with the aid of port covers to cover your peripheral ports.
You could actually drive over this machine with a car, run a hose over it, drop it from over a meter, jump on it and it will just laugh at you they are that tough!
Have a look at the videos at the bottom of the page, one gives a brief demonstratino on how to use the software, the other is a Toughbook CF-29 torture test.
Please see below link for a toughbook torture test on a CF-29.
As a special machine i have loaded the our own version of OpenCPN, which includes all the features below installed and ready to use.
M.O.B
Routes
Printer
Waypoints
Marks
Search and Rescue
Dashboard
A.I.S Ready
Boat Position
World Mag Variation
Installed on the plotter are 826 full coverage 2019 UK OFFICIAL charts ( Chart License and E.U.L.A Included )
Also includes over 20,000 NOAA and NGA giving detailed world coverage.
The software literally outperforms any other plotter software, it is in constant development. Chart quilting is automatic and is done while you are sailing which other plotters do not do.
Included is a SIRF 3 Waterproof GPS Unit, very sensitive, will lock on inside of a porthole, sucker included to affix it.
Also included is a 240v charger by default,
AS WELL AS A 12V CHARGER
CORDLESS MOUSE
We offer a 6 month guarantee, just return the chart plotter to us and we will take care of it, we also provide free email and telephone support to our customers.
Remote support is available, an application has been added to the chart plotter which generates a unique username and password which changes after each use. This gives us temporary remote access to your chart plotter so we can provide you with updates, software, repairs, support etc, and this is done right in front of your eyes so you can see whats is happening for security.

uk delivered price.£390-00