£345.00 ONLY THE ONE !!!!!
IN STOCK 12.6.15

please allow 7 days for delivery...phew....only me here plottering!!!!

FREE UK POST

and free 2016 noaa usa and 2017 uk charts
!!!!
CONSIDER 2017 FRANCE BELG,NETH UPGRADE
Toughbook CF-18 Chartplotter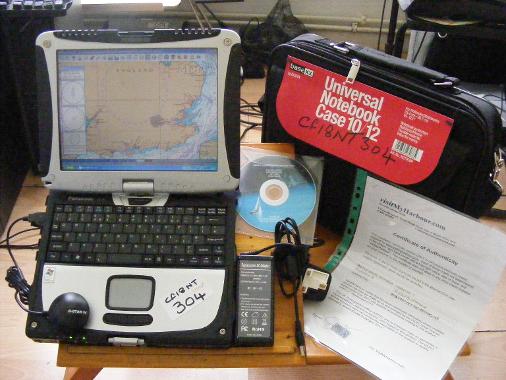 £345.00
CF18 FULL FINGER TOUCHSCREEN
345.00
free postage UK

Email for further details or use the PayPal form below to order.
Charts Included
( click thumbnails to view larger )


This model Toughbook is tested to Military standard MILSTD810G.
This means that it is certified to survive a fall, shocks, vibration, rain, dust, sand, smoke, altitude, freezing, thawing, high and low temperatures, humidity and explosive atmospheres!!
At the bottom of this page, there are 2 videos, one showing a demonstration of the software, and another which is a quick demonstration showing why they are called Toughbooks.
This Panasonic Toughbook CF-18touch screen chart plotter, includes 800 UK OFFICIAL LICENSED 2017 charts, and a NOAA and NGA chart pack giving complete world coverage.
The UK charts come locked and encrypted on the hard rive, and were released 2017 These are complete UK and Ireland charts prepared by marine cartographers.
we are authorized installers of these charts,and enclose a certificate of authenticity
and the e.u.l.a and software manual,instruction video on a cd..

The CF-18 has a rotating screen that locks down enabling it to be used as a finger tablet!!!


However, even though it is fully rugged to Military specifications, it weighs considerably less than its out of date predecessor, The CF-28. It has a full magnesium alloy case, shock proof hard drive enclosure, shock/splash proof screen, splash proof keyboard.
It has a minimum 900 MGZ CPU, 500 MB RAM and a 40GB hard drive allowing the chart software to run smoothly.


Comes with a stylus to use the touchscreen but can also be operated by the touch of a finger, includes inbuilt 802.11 b/g/n wifi, GPRS modem, and has all of its port covers.
we install the software for the gprs modem,which accepts a 2 g sim,and it becomes a very handy boat sms texting/recieving unit
with its own number.

Also installed on the chart plotter, is a world tides program and on the desktop
a folder containing files and programs that we can use in assisting you in the unlikely event of a faulure,
the software manual,pdf plus a reader is installed along with a software demo video,plus a player on the desktop as well
.
Our special version of OpenCPN with all the plugins installed and working giving you a dashboard, rolling rd, anchor watch, routes, mob, waypoints, logbook, ships papers, world magnetic variation, search and rescue, great circle routes, celestial nav, voyage data recorder etc.
This plotter accepts a.i.s.,which we stock,complete with software,a.i.s.engine,connecting leads,waterproof magmount a.i.s.antenna.
the whole a.i.s.package costs £80.which we make no profit on.But we will gladly fit this option to any cf18/19/29 free of charge.
Please note, a Bluetooth GPS sirf3 unit can be installed alongside the SIRF4 GPS receiver.
we have found a way of the plotter accepting one,either,or both gps,s.
If you decide you want this installed or any other extras to add to your chartplotter, you can find these on the 'Extras' page.
we will not install just the bluetooth as it is not waterproof.
Sorry we are sailors,and will not let a plotter go that we can see may fail.so bluetooth is a addition,not a substitution.
Our chart plotters are used, but in VERY nice condition and we offer a reasonable use 6 month guarantee including accidental damage that reasonably a toughbook should have survived. Just return the chart plotter to us and we will take care of it.
we hold complete spare parts for 18s and 19s.
our technician can rebuild them blindfolded.
Also we provide free email ,live internet and telephone support to our customers.
The phone is usually manned 24/7 as we have a night shift.
We now also offer remote support. An application has been added to the chart plotter which generates a username and password each time it is opened, allowing us to temporarily remotely access your chartplotter for updates, software repairs, support etc. this is viewed and controlled from your end for security.
JUST IN CASE YOU ARE STILL WORRIED.....WE NOW OFFER A NO QUIBBLE 14 DAY
JUST CHANGE OF MIND REFUND.
RETURN THE PLOTTER,AS SOLD!!!
AND A FULL REFUND,PLUS ORIGONAL POSTAGE WILL BE INSTANTLY MADE.
WE EVEN SAY...IF YOU DONT ACTUALLY LOVE THIS BRILLIANT BIT OF KIT,THATS REASON ENOUGH FOR THE 14 DAY REFUND.
NO ONE HAS TAKEN US UP ON THIS PLOTTER,
WEVE EVEN HAD A CUSTOMER REFUSE TO SEND ONE BACK WITH A FAULT,,
HE JUST WONT PART WITH IT!!!!

This is a absolutely lovely machine which would grace any fine boat. You would be proud of this, It is a superb piece of kit with superb software and charts.
ITS A BRILLIANT PRICE....I KNOW..